Concerned about a faulty medical device?  We can help!
Medical devices have dramatically improved the lives of many Americans. Unfortunately, these devices are sometimes the cause of severe injuries.  The devices can sometimes be a "cure that is worse than the disease."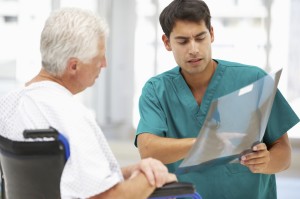 Our firm has experience representing people injured by medical devices. If you think you may have a claim, we can discuss your options and help you determine the best course to take.
Here are some of the medical devices we are investigating:
Power Morcellators:  These devices may be responsible for spreading cancer during a laparoscopic surgery. The devices are often used in hysterectomies and uterine fibroid removal. These devices have small rotating blades that are used to cut tissue into pieces that may be more easily removed from the body. Problems arise when this procedure spreads cancer cells. Sometimes power morcellators are used in other laparoscopic surgeries such as kidney or spleen surgeries.
Defective hip implants:  Some hip implants have caused severe injury and required a second or third surgery to correct the damage. Hips made by both Stryker and DePuy have been implicated in lawsuits around the country. Usually these suits arise from the use of "metal on metal" hip joints that may cause a variety of injuries. A large number of defective hips have had to be replaced. Our firm has successfully represented clients in these cases and we can advise you if you believe your hip may be recalled or causing you injury.
Pelvic mesh / Transvaginal Mesh:  Many patients who had transvaginal pelvic mesh implanted in their bodies are now experiencing problems that range from pain to incontinence. The FDA has issued statements on these products. Some products may be contributing to as problems as they solve. If you have had pelvic mesh installed for pelvic organ prolapse or another condition and you are having complications, you may be entitled to seek compensation. Our firm has investigated and researched these products extensively and we can provide you with professional insight.
DaVinci Robotic Surgery: Our firm began investigating daVinci robotic surgery injuries more than two years ago. Some patients have had negative outcomes including burns and severed arteries and tissue. There have been cases where death or severe injuries are alleged to have resulted from use the machines. Sometimes these injuries may be the result of the way the machine is used by a particular doctor. Other injuries may be more directly tied to the machine itself. If you or a loved one has had robotic surgery and experienced a serious injury or complication, you should contact us today for a confidential evaluation.