Are Your Dietary Supplements Safe?
You see the commercials on television all the time—take this pill and you will lose weight. But are dietary supplements safe?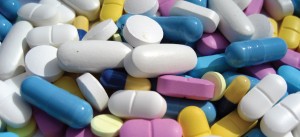 A new Consumer Reports study indicates that there may be many risks associated with dietary supplements including heart palpitations, allergic reactions and pain. The study outlines how the supplements including vitamins, probiotics and weight-loss aids, do not face the same testing and federal scrutiny that prescription medications go through during trials in order to receive FDA approval.
"It's what you don't know – I think that's the thing that we're most concerned about," said Lisa Gill, deputy content editor at Consumer Reports, according to CBS News. "Just because it's not prescription, you say, 'oh, it's safe,' but that's not necessarily true."
Unlike prescription medications, which can still cause injuries even after testing, dietary supplements do not have to receive FDA approval to be sold online and in stores.
In its study, Consumer Reports found that some dietary supplements contain ingredients that have been linked to kidney and liver damage, and death. Aside from dangerous ingredients, some of the supplements tested by researchers have been found to contain microbes or heavy metals. This has led to consumer injuries. The news outlet reports that some of the supplements are sold at retailers including Costco, GNC and Whole Foods.
According to the news outlet, a Government Accountability Office (GAO) found that from 2008 through 2011, the FDA received 6,307 reports of health problems linked to dietary supplements, including 92 deaths and more than 1,000 serious injuries or illnesses.
To read the report, you can click here.
I Have Been Injured by a Dietary Supplement. Can I Hold its Maker Liable?
Although dietary supplements may not be held to the same standards as prescription drugs, it does not mean that you cannot hold a manufacturer liable if you are injured by one. Talk to our dangerous drug attorneys if a dietary supplement has injured you.
We can help you hold a manufacturer and/or retail outlet liable for any damage caused to your body. See the video above for more information and/or contact us using the linked button above.